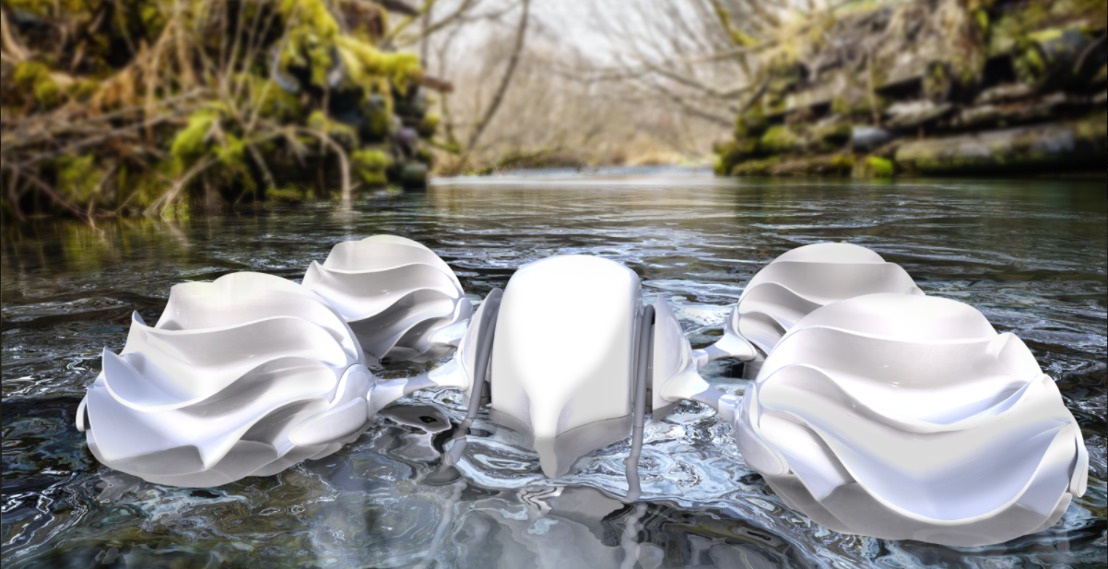 Young Polish Designers showcase at Vienna Design Week
CARE, CONNECT, CHANGE is an exhibition of 24 projects by graduates from eight public art academies in Poland. Organised by the Academic Design Centre in Łódź, whose first two shows at Milan's Salone del Mobile and Dutch Design Week in 2017 and 2019 respectively were a resounding success, this year's event takes place during Vienna Design Week (24 September-3 October) and focuses on design that celebrates the body, relationships, nature and the environment. Though many of the projects are aesthetically pleasing, this isn't a showcase of pretty chairs or traditional design objects but rather of iterative and thoughtful pieces and projects with a mission.

"There is a great deal of care for the environment and care for people in the work we selected for this exhibition," says curator Izabela Boloz. "As well as a lot of empathy and an activist spirit. These young designers, many of them women, are impatient to change things, to collaborate and to work across disciplines."
After a difficult year of isolation and loneliness for many, fostering interpersonal and intergenerational relations has been vital for these young designers, who have turned to play and interaction to create bonds between different social groups and communities. Designs in this category include a board game by Karolina Glanowska that aims to break down barriers between sighted and blind people, a 'conversational' game created by Wioletta Bogunia-Bugaj that helps maintain close relationships with long-distance friends and families and a wooden blocks building kit conceived by Magdalena Bojko-Michalak that's aimed at stimulating old and young and creating bonds between children and older relatives. These are projects that are tested on users extensively in an iterative and open-ended design process.
"A lot of good human-centred design is emerging in Polish design schools right now that relies on user and observational studies," says Boloz.
Taking care of the body is also a major theme in this exhibition. There's a device designed by Emilia Ferenc that aims to support the rehabilitation of feet with disorders and highlights a much neglected part of the body, a hearing protection band for young babies and children conceived by Karolina Bytnar and a vibrator that is the brainchild of Maja Budzyńska and is part erotic toy and part ovulation thermometer, allowing women to use the temperature method with ease, and highlighting the pleasurable aspect of a task that can sometimes be viewed through too medical a lens. The body is also indirectly centred in two other pieces that have both physical and symbolic or metaphorical aspects. One is a sculptural timber and ceramic washstand designed by Karolina Gardzilewicz where one vessel has to be moved forward to release the water. This piece operates on many levels, but above all it brings back the notion of washing as a ritual and requires two people to operate it, so it once again highlights ideas of relationships and building mutual trust. Another is a functional and portable stool by Magdalena Wawrzyniak that disassembles into a piece body armour, a shield and a truncheon. "It's not an invitation to violence but rather a symbol of the discontent among young people at the moment and an invitation to reflect on the role of the individual in fighting injustice around the world," says Boloz.
Finally, nature and the environment is a big preoccupation for these up-and-coming Polish designers. Whether it's Paweł Lewandowski's versatile tent that can be fastened to a tree trunk and allows you to spend the night in the treetops, a trio of modular small-scale domestic power plants by Robert Mrowiec, Adrianna Paśkiewicz and Aleksandra Rutkowska that use sun, wind and water to create energy or an eco river submarine designed by Michał Jarzębowski that can carry out deep river bed surveys, these are projects intent on exploring and understanding the natural world, harnessing what it can offer without creating a detrimental impact and often bringing about stronger interpersonal bonds in the process.  
CARE, CONNECT, CHANGE is a multi-disciplinary collection of projects that shows the diverse and exciting nature of the Polish design landscape today. It confronts the current zeitgeist of polarising debates and social and environmental breakdown but rather than fall into despair or alienation, it offers up gently pioneering and always inclusive solutions. These young designers believe in people, nature and changing the world.
For more images, please click here.
---
YOUNG POLISH DESIGNERS: CARE, CONNECT, CHANGE
Academic Design Center – Akademickie Centrum Designu
24.9.–3.10.2021, 11–20
Festivalzentrale am Sachsenplatz
The exhibition is organized by the Academic Design Center (ADC), an organization bringing together design departments of 8 Polish public art schools. The main objective of the ADC is to establish cooperation between business and science, through joint development and design research. It also aims to promote Polish design schools, their creations and the Polish industry. The vision of the ADC is to become a platform for combining the potential of research and teaching, which will contribute to enhancing the competitiveness and attractiveness of studies in the fields of design in Polish art schools.
Eight Polish state art academies participate in the exhibition: Academy of Fine Arts in Gdańsk, Academy of Fine Arts in Katowice, Jan Matejko Academy of Fine Arts in Krakow, Strzeminski Academy of Fine Arts in Łódź, Abakanowicz University of Arts in Poznań, Academy of Arts in Szczecin, Academy of Fine Arts in Warsaw and the Eugeniusz Geppert Academy of Fine Arts in Wroclaw.
The exhibition is co-financed by the European Regional Development Fund under the Regional Operational Program of the Lodzkie Voivodship for 2014-2020.

Anoek Hagenaars Country Manager NL, Talking Birds Public Relations